Registrations have closed.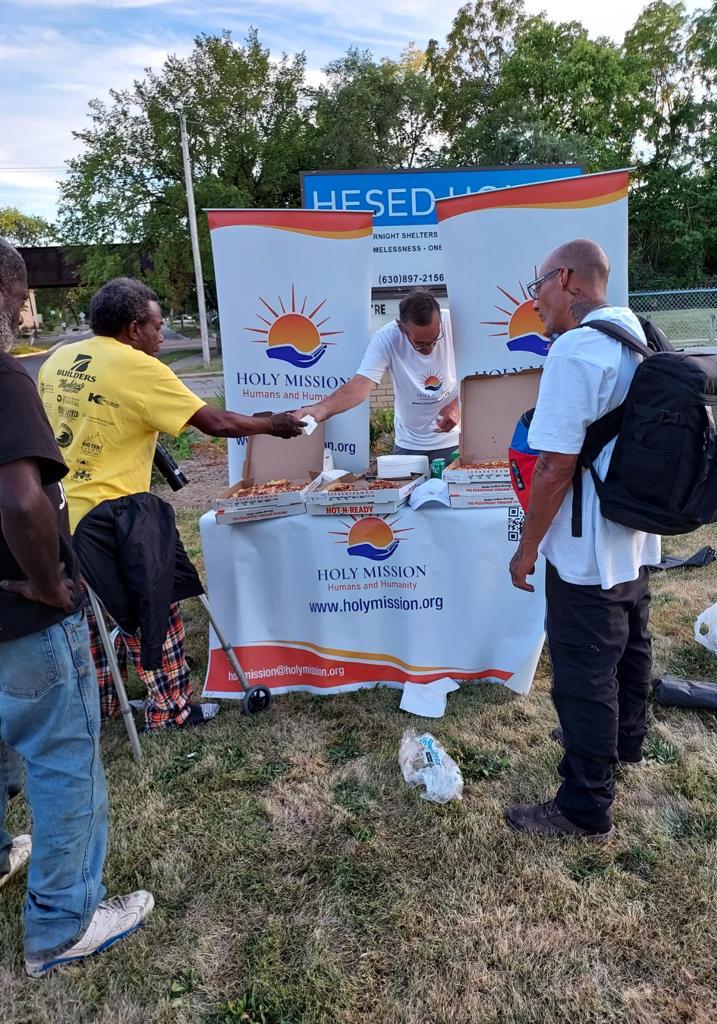 Food Distribution Event #2: Pizza Toppings of Joy and kindness
129
129 people viewed this event.
Event Announcement: "Pizza of Compassion: Sharing Slices, Spreading Smiles"
Date: August 31, 2023
Location: Park Opposite Hesed House Homeless Shelter
Organizer: Holy Mission Nonprofit Organization
Event Description:
Holy Mission Nonprofit Organization is excited to announce our upcoming event, "Pizza of Compassion: Sharing Slices, Spreading Smiles," on August 31, 2023. With the aim of providing not just sustenance but also moments of joy, this event seeks to bring smiles to the faces of homeless individuals in our community.
Event Highlights:
Delicious Pizza Treat: The event will feature a mouthwatering spread of freshly baked pizzas, from classic flavors to creative combinations. Every slice is a testament to the care and thoughtfulness that Holy Mission invests in its mission to serve those in need.
Inclusive Gathering: Held in the park opposite Hesed House Homeless Shelter, this event emphasizes inclusivity and community spirit. It's a chance for people from different walks of life to come together and share in the joy of a meal.
Dedicated Volunteers: Our compassionate volunteers, Tanay and Morris, will be at the forefront of this event, ensuring that every individual is treated with kindness, respect, and a warm slice of pizza.
Beyond Food: "Pizza of Compassion" isn't just about pizza; it's about fostering connections and igniting hope. Volunteers will engage in conversations, create a welcoming atmosphere, and remind attendees that they are valued members of our community.
Essentials and Comfort: In addition to pizza, attendees will receive care packages containing essentials like hygiene items, blankets, and clothing, designed to address their immediate needs and enhance their well-being.
Community Partnerships: Local businesses and community members have rallied behind this initiative, showcasing the power of collaboration in making a meaningful impact.
Volunteer Voices:
Tanay shared his excitement, saying, "I can't wait to be part of an event that not only fills stomachs but also brings a bit of happiness. It's a reminder that we're all connected."
Morris added, "Being a volunteer is a way to channel empathy into action. Every smile we share is a step toward creating a more compassionate world."
How to Get Involved:
Volunteer: Join us in this heartwarming endeavor by signing up as a volunteer. Your presence can make a difference in the lives of homeless individuals.
Spread the Word: Share event details within your network and on social media. Let's make sure that the message of compassion reaches as many people as possible.
Donations: If you'd like to contribute, consider making a donation to support the event's expenses and our ongoing efforts to assist the homeless community.
Contact Information:
For volunteering, donations, or inquiries, please visit www.holymission.org, or reach out to us at holymission@holymission.org
Mark your calendars for August 31, 2023, as we come together to enjoy pizza, share moments, and make a positive impact in the lives of those who need it most. "Pizza of Compassion" – where every slice carries the flavor of care and camaraderie.